Basmati Rice
The True Pride of
Pakistan
Pakistan is recognized around the world for producing and exporting high quality and aromatic Basmati rice.
Read More
ABOUT REAP
Rice exports from Pakistan were previously dealt by the Rice Export Corporation of Pakistan. After rice exports were allowed to the private sector, a new body of people emerged in the shape of Rice Exporters Association of Pakistan.
In 1988-89 Rice Exporters Association of Pakistan (REAP) came into existence and started interacting with the Ministry of Commerce and Ministry of Food Agriculture and Livestock and also with the Planning Division of the Government of Pakistan.
In 1992 REAP also played host to the Arabian Gulf Cooperative Council which included government buyers from Saudi Arabia, Kuwait, Oman, U.A.E., Bahrain and Qatar. For the first time since private sector was allowed rice exports they made a sale of 36000 tons.
Read More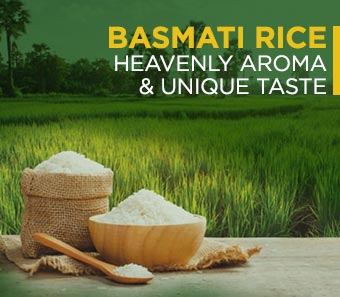 RICE CROP & EXPORTS
Pakistan is among the top ten largest rice producing countries in the world. As rice is not staple diet of our people, more than 60% of rice is surplus and available for export purpose.
Types of Pakistani Rice
Export History
REAP MEMBERSHIP
REAP is the 2nd largest export trade body of Pakistan after textile sector & contributing more than US$ 2 Billion per annum. REAP has been playing a role of bridge between its members and various Government Ministries and Departments to resolve the issues being faced by its members. Government's Relevant Ministries always appreciate REAP's role for the growth of our country's economy.
Become a Member